WooCommerce vs Magento – Which Is the Best Platform for Your Online Store?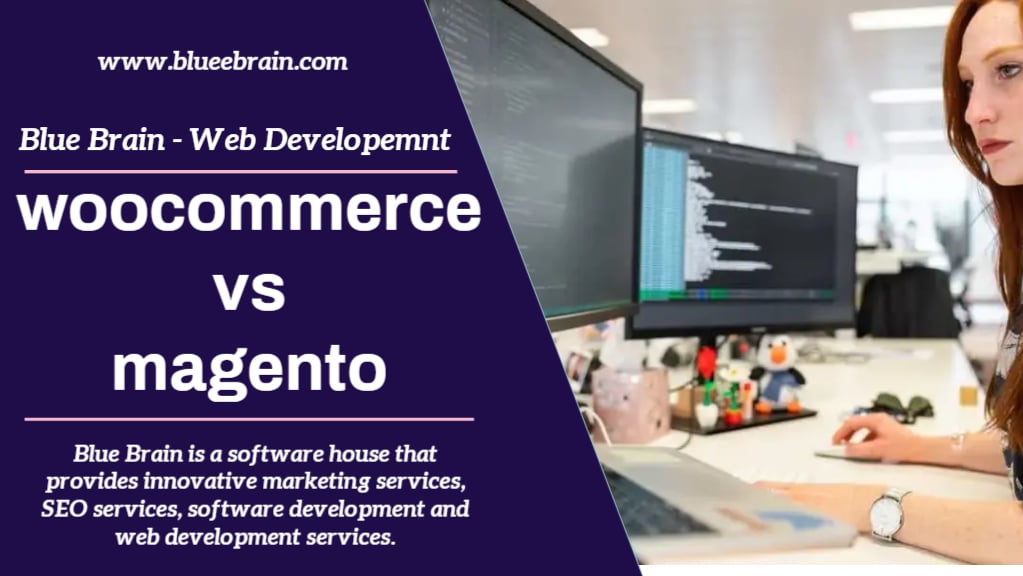 When it comes to creating an online store, you have two main choices – WooCommerce or Magento. Both are incredibly powerful eCommerce platforms, but they excel at different things, so which one should you choose? This article discusses the pros and cons of each platform and points out why you might consider using one over the other.
A Quick Comparison
WooCommerce vs Magento: Magento is an open-source platform, which means you'll have to rely on third-party extensions and updates. WooCommerce is a more streamlined platform, but it doesn't offer as much flexibility when it comes to customization.
 When it comes to online shopping, there are plenty of platforms and apps available. Choosing a platform is largely based on your needs and preferences, but you should also consider how easy it is to navigate and customize. If you're looking for something with all of WooCommerce's features but a more flexible approach, Magento might be your best bet.
What Is Magento?
Magento is a popular eCommerce platform that offers a wide range of features, including advanced search capabilities, social media integration, and more. This robust tool is designed to handle large volumes of traffic and high-volume transactions. However, it can be difficult to set up and maintain. It also has some steep pricing options that may not be ideal for small businesses on a tight budget.
Are There Any Hidden Costs with Magento?
Magento is a robust and flexible e-commerce platform, but it does come with some hidden costs. For instance, there are many functions that are only available with the more expensive Enterprise version of Magento. In addition, setting up a website on Magento requires some upfront investment in knowledge and money.
You need to set up an SSL certificate from your hosting provider and pay for software services like Blue Brain or Centis7 to get them to do all of the heavy liftings. With WooCommerce you don't need any of these extras because WordPress handles it all for you. Setting up a website on WordPress can be done with just one click!
Can I Customize My Website with Magento?
It is possible to customize your website with Magento, but you'll need a professional web designer who is well-versed in the platform. Blue brain well-skilled development and marketing team can provide you with these services as well. If you're unfamiliar with it, you may want to choose Woocommerce because of its simplicity and ease of use.
Magento is a robust eCommerce platform that has many extensions available. It's scalable, secure, and has a wide array of features that make it a solid choice for anyone running an online store or business.
How Efficiently Do WooCommerce Manage Orders, Customers, and Products?
As an online store owner, you'll want to choose a platform that's going to keep your customers happy. That's why WooCommerce and Magento are two of the most popular platforms available. Both are capable of hosting your site, fulfilling orders, and handling payments in a variety of ways, but which is better suited to meet your business needs? Read on to find out!
 In order to stay competitive in today's digital marketplace, you'll want to do what you can to ensure your customers are able to easily find products and place orders. One of the best ways to ensure that happens is through a commerce management platform. Currently, WooCommerce and Magento are two of the most popular CMS options available, but which one is better suited for your business needs? If you're considering either option, let's take a look at how they stack up against each other!
How Easy is it to Update my Site With WooCommerce or Magento?
Both WooCommerce and Magento are easy to update, but they have different pros and cons. If you're going with WooCommerce, you'll be able to add new products easily using a CSV file. If you go with Magento, your updates will be done through cPanel.
If you're not familiar with HTML or PHP, then it might be easier to use WooCommerce than Magento. However if your site requires more complicated programming, then it might be better to go with an app like Blue Brain because it allows developers to create webpages in a drag-and-drop interface that's designed specifically for online stores.
What Kind of Support Will I Get From Using these Platforms?
Magento vs WooCommerce – both have strong communities of users, developers, and designers. You'll likely get support from all three groups when you're using either platform. However, as a user, it's important to know where to go for help.
When I think about who I want to be able to ask questions to if I'm experiencing an issue, my first instinct is to go straight to the community forums on either site. It takes more time but it also has less friction than trying to email someone at the company.
Do I Need Coding Knowledge in Order to Use These Systems Effectively?
Magento is an open-source eCommerce platform that you can download and install on your server. In contrast, WooCommerce is a WordPress plugin that you can use to create an online store without needing any coding knowledge.
Magento uses a MySQL database, while WooCommerce stores data in both a MySQL database and a file system. This means that if something goes wrong with your hosting provider, it might not be possible to access your files if they are stored in the file system instead of a database.
Both platforms offer free versions and paid versions, but the features available in these paid versions are quite different from each other. blue brain website development specialist team can easily develop a website for you on any platform you chose for your website.
Our Thoughts on WooCommerce vs Magento
Magento and WooCommerce are two of the most popular platforms on which to build your online store. There are a lot of factors to consider when choosing a platform, so in this post, we'll cover some of the main differences between these two platforms and help you decide which is best suited to your needs.
Magento has been around since 2008 and has an impressive feature set that includes features like inventory management, order management, advanced reporting, a content management system (CMS), and more. However, some users find it difficult to use because it's built using PHP programming language.
Read More: 10 Best Instagram Ad Examples To Check Out In 2022