How to start a blog – Things to Know Before Starting a Blog from Scratch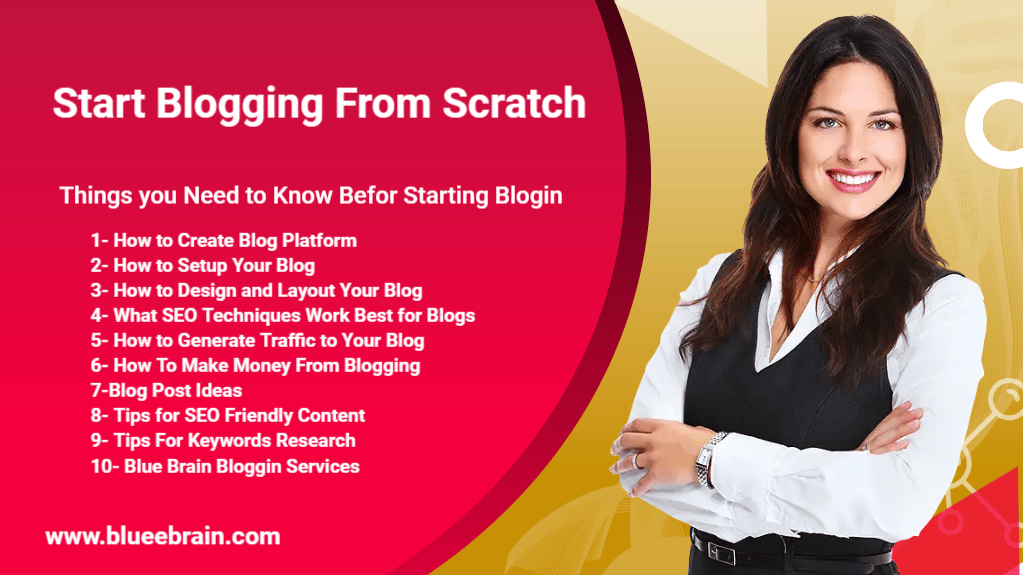 You've always dreamed of becoming a blogger but weren't sure where to start. Or maybe you want to know why your favorite blogger is successful. how to start a blog? and how I become a blogger, Whatever your question, we have the answers! In this guide, we'll explain everything you need to know about blogging from how it works to how you can become a star yourself.
From finding inspiration for your blog posts and videos to learning about SEO and analytics, we've got everything covered so that you can be confident making the next big step in your career. Plus, our bloggers are happy to answer any questions that you may have so that you can make an informed decision before starting up online.
Building a Blog Network? Things you should know
In order to build an effective blog network, you'll need to have good relationships with other bloggers. It's not enough to just post and hope for the best; you must be active in promoting your fellow bloggers, helping them out when needed, and being open to collaborating on projects.
The best way to cultivate a strong blog network is by participating in blogging conferences and social media platforms. Not only will this provide you with valuable networking opportunities, but it will also give you the opportunity to observe successful bloggers in action. Finally, make sure that your blog content is fresh and engaging so that your readers
Things to Remember:
When starting a blog, be sure to research what you need to do in order to start making money. There are many different ways for bloggers to make money, and it can be hard to decide which route is best for you.
Remember that success as a blogger doesn't come overnight; it takes dedication, effort, and time invested into your blog. Do not give up too easily – if at first, you don't succeed, keep trying!
Before you start blogging, make sure you have a good understanding of the following topics:
– How to create a blog platform
– How to set up your blog
– How to design and layout your blog
– What SEO techniques work best for blogs
– How to generate traffic to your blog
1- How to create a blog platform
When creating a blog platform, you will need to decide what type of blog system you want to use. There are many different platforms available on the internet, so it is important that you choose one that will fit your needs and preferences.
Some popular blogging platforms include WordPress, Blogger, and Drupal. Each has its own strengths and weaknesses; make sure to research which one is best for your blog before making a final decision.
2- How to set up your blog
Once you have chosen a blogging platform, the next step is to set up your blog. Before doing this, be sure to make a backup of your existing blog files. This is important in case something goes wrong during the setup process – you will not want to lose any data!
Once you have completed the setup process, be sure to add content to your blog. Make sure that your blog posts are well-written and engaging so that readers will want to come back again and again.
3- How to design and layout your blog
Once you have created your blog posts and set up your blog platform, the next step is to design and lay out your blog. This will determine the look and feel of your blog. There are many different
design templates are available online; make sure to select one that best suits your style.
4- What SEO techniques work best for blogs
One of the most important aspects of blogging is optimization – which means making sure that you optimize all of your content for search engine visibility. There are a number of different SEO techniques that you can use; be sure to research which ones are effective for blogs before implementing them.
5- How to monetize your blog
One of the best ways to generate income from your blog is through advertising. There are many different advertising avenues that you can explore; be sure to find one that works best for your blog and target audience.
6- How to publicize your blog
One of the best ways to increase traffic and revenue from your blog is through publicizing it. You can do this through social media channels, search engine optimization (SEO), backlinking, guest posts, bookmarks, add posting, and links from other blogs,
7- How to make money from blogging
There are a number of different ways that you can make money blogging. Some popular methods include charging for premium content, charging for ad space, and running an affiliate program
Blue Brain – Innovative marketing agency
Blue brain highly skilled team can teach you how can start blogging and how to earn from blogging, blog marketing, social media marketing, digital marketing, and search engine optimization. Services start from $100 per month. Blogging can be a great way to share your ideas and thoughts with the world, and there are many different things that you can do to make money blogging.
Some popular methods include charging for premium content, charging for ad space, and running affiliate programs. If you want to learn more about how to make money blogging, the Blue brain is an excellent resource – they have a team of highly skilled professionals who can teach you everything you need to know!
5 Blog Post Ideas For Every Kind Of Blog (Creative & Unique Ideas)
1. How To Start A Blog Quickly & Easily – This blog post is a comprehensive guide on how to start a blog quickly and easily, from finding the right platform to setting up your blog's basic features.
2. The Top 5 Tools You'll Need To Start Your Blogging Journey – This post provides an overview of some of the most important tools that you'll need in order to start blogging successfully – from a blog platform (WordPress or Tumblr) to social media integration tools!
3. 20 Unique Ideas For Starting A Blog That Will Stick Out From The Pack – In this post, you'll find some unique ideas for starting a blog that will really stand out from the crowd – whether you're targeting business owners or anyone who wants to share their creative side!
4. How To Make Money Blogging – This post provides an overview of different ways that you can make money blogging, from generating ad revenue through affiliate marketing to charging for premium content.
5. 10 Tips For Promote Your Blog & Increase Traffic – In this post, we provide tips on how to promote your blog and increase traffic – from creating powerful blog strategy pages to getting involved in social media!
5 Proven Ways To Increase Blog Traffic in 2022
1. Use Google Adsense – One of the most effective ways to boost blog traffic is through paid advertising – and Google AdSense is one of the most popular forms of this type of advertising!
2. Get Creative With Paid Advertising – Another way to get more people to visit your blog is through creative (paid) advertising –try using banner ads, social media campaigns, or even email marketing!
3. Promote Your Blog Via Competitor's Sites – Not only can you promote your blog via your own site, but you can also promote it on sites that are related to what you write about!
4. Incentivize Your Readers With Affiliate Marketing – Many bloggers make money by partnering with other companies and promoting products they believe their readers will find valuable – this is called affiliate marketing!
5. Write Quality, Eye-catching Articles That Get Links – To really drive traffic to your blog, you need to write quality content that people will want to share – whether it's through social media or email friends and family.
5 tips for SEO Friendly Content
1. Use H1 Tags & Titles – One of the best ways to make sure your blog content is seen by as many people as possible is to use high-quality titles and H1 tags!
2. Write Compelling, Short Articles – A shorter blog post will generally be more easily read and shareable than a long one – so make sure you write in a compelling, albeit concise, style!
3. Make Sure Your Blog Images Are High Quality – Images play an important role on blogs – not only do they provide visual interest for readers, but good images can also help with ranking in search engines.
4. Use MLA Format for Your Blog Posts – Many blog readers are professors and writers who prefer to read academic papers formatted using the Modern Language Association (MLA) style – so make sure you use this formatting when writing your blog posts!
5. Maintain a Clean Blog Profile & Design – Finally, one of the most important things you can do to ensure success with SEO is to keep your blog clean both externally and internally – by removing clutter, maintaining fresh content, etc.
Read More: 7 B2B Lead Generation Tips To Help You Crush Your Competition
5 SEO Tips for Boosting your Blog Traffic
1. Optimize Your Blog for Search – One of the most important things you can do to boost your blog traffic is to optimize it for search engines!
2. Use Keyword Research Tools – Before you start writing, make sure you research which keywords your content should focus on – using tools like Google AdWords or
3. Publish New Content Regularly – Keeping a blog updated with new, quality content will help drive more people to visit and ultimately share your work! 4. Plan and Executeographics – Use strong visuals (e.g., infographics, graphs) to help explain your data points in a way that's easy for readers to understand – it can really help boost blog traffic!
5. Promote Your Blog Posts with targeted Social Media Ads – One last thing – make sure you promote your blog posts through social media ads!
5 Best Keywords research tools
1. Google AdWords – One of the most popular ways to research keywords is by using Google AdWords – simply type in your desired keyword and see what ads show up as potential matches.
2. SEMrush – SEMrush allows you to research competitor websites, analyze traffic ranks, and track backlinks – all of which can help inform your keyword selection for blog posts!
3. Ahrefs – Ahrefs lets you research competitors' website data (e.g., social media mentions, and pageviews), assess their SEO activity, and build profiles of them based on their information. 4. Moz – Moz is a great tool for researching keywords and understanding their popularity – you can even export your findings into a custom keyword planner!
5. BuzzSumo – BuzzSumo lets you research which content pieces are resonating with the online community – this information can be helpful when choosing topics for blog posts!
Read More: What Is A Marketing Agent? Why We Need To Hire One
Blue Brain SEO Services
Interested in boosting your blog traffic and SEO? Blue Brain SEO Services can help!
Our team of experienced professionals specializes in helping small businesses (and any business, for that matter) improve their online presence through premium blog optimization services and search engine marketing.
We work with clients from all industries – so whether you're a fitness blogger, restaurant owner, or entrepreneur starting out on your own – we can help get your blog seen by the right people and boost your website's visibility rank.